Sunday School & Youth
Sunday School at SRC
Who: Children ages 4 through 8th grade
Where: Heritage House
When: Sunday @ 9:15am
Will resume on September 10!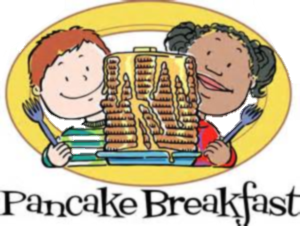 Please join us on Sunday, September 10th at 9 AM for a FREE pancake breakfast to kick off the year! Pancakes, sausage, applesauce, coffee, juice and milk will be served.
Come eat, visit, and learn a little more about our Sunday School program. All are welcome!
Regular Sunday School classes begin September 17 and will run through May 20, 2017.
---
Our Sunday school program at the Schoharie Reformed Church engages children in weekly sessions that are fun, faithful to God's Word, and friendly to a wide variety of ages. Each Sunday during the Sunday School season we gather at 9:15 in our Heritage House. Together in a one-room schoolhouse style we begin by singing energetic and interactive songs. This is followed by a time of learning together often including short videos from the "Whirl" curriculum (based on the Revised Common Lectionary), reading together a Bible story, having a discussion, completeing a craft, and enjoying a snack. Sunday School is led by our dedicated, passionate, and gifted Sunday school leaders Liza Toborg and Cindy Parks, with assistance from Marion Jaqueway and Pastor Mike. During certain times of the year, the kids are given an opportunity to learn about specific topics like communion, or The Lord's Prayer. There is also an opportunity to be part of a special Sunday School Program for Christmas and Easter. All children ages 4 through children in 8th grade are welcome to participate as students, and older children are welcomed as helpers (we learn 90% of what we teach!). Please check the right hand side of this page for our upcoming Sunday School dates.
Schedule
(2017-18)
September 10th – Pancake Breakfast & Sunday School Kick-off
September 17th – Regular Sunday School – Joshua and The Promised Land
September 24th – Regular Sunday School – Joshua and Jeric- Oh – No!
October 1st – Regular Sunday School – Joshua and God's Game Plan
October 8th – No Sunday School – Columbus Day Weekend
October 15th – Regular Sunday School – Joshua and Walls & Breakthroughs
October 22nd – Regular Sunday School – Gideon and You've Got the Wrong Cucumber
October 29th - Regular Sunday School – Fall Celebration
November 5th – Regular Sunday School – Gideon and Gettting Fleeced
November 12th – First Practice for Christmas Program
November 19th – Second Practice for Christmas Program
November 26th – No Sunday School – Thanksgiving Weekend
December 3rd – Third Practice for Christmas Program
December 10th – Final Practice for Christmas Program
December 17th – Dress Rehearsal and Performance of Christmas Program during Church
December 24th – Sunday School Christmas Party
December 31st - No Sunday School – New Year's Weekend
January 7th – Regular Sunday School – Gideon and The Brain-Freeze Test
January 14th – No Sunday School – Martin Luther King, Jr. weekend
January 21st - Regular Sunday School – Gideon and Horns of Plenty
January 28th - Regular Sunday School – Joseph and Greens with Envy
February 4th - Regular Sunday School – Joseph and Miss Kitty's Claws
February 11th - Regular Sunday School – Valentine's Day Celebration
February 18th – No Sunday School
February 25th - Regular Sunday School – Joseph and Dreams & Droughts
March 4th - Regular Sunday School – Joseph and Justice of the Peas
March 11th - Regular Sunday School
March 18th - Regular Sunday School
March 25th - Regular Sunday School – Palm Sunday Parade with Schoharie United Presbyterian Church
April 1st – No Sunday School – Easter – Resurrection Egg Hunt following Worship
April 8th - Regular Sunday School
April 15th - Regular Sunday School
April 22nd - Regular Sunday School
April 29th - Regular Sunday School
May 6th - Regular Sunday School
May 13th - Regular Sunday School
May 20th - Last Day of Sunday School – Church Picnic